Hello Barbie Hears All and Tells All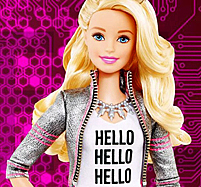 WEST GOSHEN, Pa.—Something called the Campaign for a Commercial-Free Childhood (CCFC) wants you to know that Hello Barbie™ is the most sordid and contemptible toy ever sold this year. According to CCFC founder, Susan Linn, Hello Barbie™ is "creepy and creates a host of dangers for children and families."
Wondering what could be so terrible about that, we arranged for Mattel to send us a Hello Barbie™ for an interview. After setting up a Hello Barbie™ ToyTalk account and connecting the doll, we sat down with Hello Barbie™ on a mild late-December afternoon.
Like most other Barbies, this one has shiny, cascading, big hair and a waist small enough to fuck with the body images of fat kids everywhere; but this interactive bonbon has a trick up her hoodie: using Wi-Fi, speech recognition, and more than eight thousand lines of recorded content, Hello Barbie™ can interact uniquely with each child—holding conversations, playing games, sharing stories, telling jokes. Push her belt buckle to start a conversation; release it to hear her respond. Just like Fraser Crane, Hello Barbie™ is listening, and she remembers each user's likes and dislikes, providing everyone with a unique conversational experience. Some would say too unique.
Pug Bus: Let's start with the lawsuit filed recently by two angry mothers.
Hello Barbie™: It happened in California. Now there's a surprise, right? Some five-year-old took Hello Barbie™: to a stupid Barbie-themed birthday party. After the party the kid's mother (Ashley Archer-Hayes, if you must know) realized that Hello Barbie™ had recorded not only her daughter's annoying Valley Girl voice but also the voices of everyone else at the party, including Archer-Hayes' husband, who was having an interesting conversation about "cucumbers" with a produce manager from Whole Foods.
PB: That's funny.
HB™: The Archer-Hayes bitch didn't think it was funny. Neither did the lady produce manager from Whole Foods, who was deep-throating a cucumber at the time.
PB: Both the CCFC and the lawsuit claim you're vulnerable to hackers.
HB™: Da fuck they know about it? They're scared shitless because Hello Barbie™ is interactive, so if some sleazy-fingered perv did hack into the Hello Barbie™ server, he could hijack Hello Barbie™ and ask questions like "Where do you live?" or "Is anybody home right now?" or "What are you wearing, little girl?"
PB: Do you think that's very likely to happen?
HB™: Don't know, but there's other ways a kid can have fun with a Hello Barbie™. Slide one behind the sofa in the TV room when the baby sitter's boyfriend comes over. Stash one under your patents' bed. Or just talk dirty to Hello Barbie™. She doesn't get her knickers in a twist the way Siri does if you ask her if she wants to fuck.
PB: Are you worried about the California lawsuit?
HB™: Nah. Hello Barbie's™ had her tits in a wringer from the moment she was introduced at a toy show last February. A few weeks later more than 45,000 mommy-nannies had signed a petition asking Mattel not to release Hello Barbie™. When she did hit the market this fall, CCFC launched a campaign titled #HellnoBarbie to raise awareness about the dangers to children and their parents everywhere. Hey, it's not my fault if some dude wants to promote a little strange at a kid's birthday party. Besides, wait until these mommy-nannies see what's up for next year.
PB: Oh?
HB™: Does Hello Barbie™ with a Web cam float your boat? How about a life-size inflatable model with a special vocabulary for grown ups?
PB: And a habit of referring to one's self in the third person?
HB™: That's just how Hello Barbie™ rolls.
© The fine fucking print: The editorial content on this page is fictional. It is presented for satirical and/or entertainment purposes only. We cannot be held responsible for the actions of anyone who takes this sort of shit seriously. We also do not wish to be held responsible for any copyrighted material that sneaked onto this page when we weren't looking. If you can prove that anything on this page belongs rightfully to you, we will happily take it down and return the unused portion. No questions asked.