National Drunks Against Madd Mothers Day℠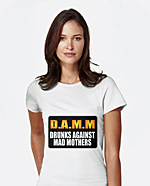 WEST GOSHEN TWP, Pa.–James Carville described Pennsylvania as "Philadelphia on one side, Pittsburgh on the other, and Alabama in between." Living just far enough west of Philadelphia to witness the truth of Mr. Carville's observation, we are not surprised that today is National Drunks Against Mad Mothers Day, sponsored by DAMM Pennsylvania.

Headquartered somewhere in the Keystone State's Alabama district, DAMM of Pennsylvania raises a glass to a "three-fold mission: to get mad mothers to stay at home cooking and cleaning where they belong, to stop people from drinking and driving because they might spill some, and to prevent incidental alcohol abuse such as returning the keg before it's been emptied."


DAMM spokesperson emeritus for 2020 is former actress, singer, model, and blogger Lindsay Lohan, who now lives full-time in Dubai, from whence she oversees three clubs in Greece and an island she's designing called Lindsay Land.

Ms. Lohan initially met members of DAMM more than ten years ago when she visited Philadelphia "to see where Congress lives," only to learn that Philadelphia is not the capital of the United States. Nevertheless Ms. Lohan kept in touch with her DAMM friends, and when the drinking-support group opened a satellite branch in L.A., she was happy to lend her presence.

"Lindsay's real people," laughs Willow, a DAMM of Los Angeles member.


"When she came to the first meeting, she didn't put on any airs. She got right up in front of the group, just like everyone else, and said, 'My name is Lindsay. Does anybody feel like getting shitfaced?' She wasn't too proud to ask just because she's a star.

"At DAMM we're always here for one another, 24/7," Willow continued. "DAMN means never having to drink alone, ever, unless you want to. I've gotten out of bed at three in the morning and gone to drink with a DAMM member when I should have been going home instead. That's the kind of member Lindsay is."
© The fine fucking print: The editorial content on this page is fictional. It is presented for satirical and/or entertainment purposes only. We cannot be held responsible for the actions of anyone who takes this sort of shit seriously. We also do not wish to be held responsible for any copyrighted material that sneaked onto this page when we weren't looking. If you can prove that anything on this page belongs rightfully to you, we will happily take it down and return the unused portion. No questions asked.