Parental Controls Fail: Porn, Stupid TV, Cooking Shows Still Dominate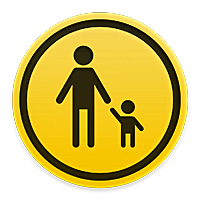 WEST CHESTER, Penna. – Despite their widespread use, parental controls have been a disappointment as a means of empowering children to control their parents' Internet and television viewing. According to Victoria Dumars, a spokeswoman for the Consortium for a Sound Intellect in New York (CSI-New York), "Parents are very resourceful when it comes to evading parental controls. They are determined to keep watching cooking shows, the most laughable porn, and the VH1 classic rock channel no matter how much these choices embarrass their children."
Unfortunately for children who embarrass easily, evading parental controls is just a phone call away. All a parent has to do is call the ISP/cable provider and ask a technician to reset the parental control code because "the kids were messing with the damn computer/television again." As long as a parent can verify that he or she is the actual owner of an account (the last four digits of a Social Security number will spring that lock), ISPs are happy to reset the parental controls code.
"I thought I had blocked every stupid cooking show on television," said Jason Campbell, an eleven-year-old from Oklahoma City, "but I came home from school with some friends yesterday, and there was my mother watching that fat-shit, hairy-handed Chef John. How bad is that?"
CSI-New York suggests that young people "engage in constructive dialog" with their parents in order to reach a compromise about which websites and television programs are acceptable.
"Perhaps if a child agrees to give up Co-Eds Begging for It in Cancun, his parents will give up Monk reruns," says Ms. Dumars.
In related news, the debate about parental controls is sure to intensify now that Symantec has released its OnlineFamily.Norton (formerly known as Norton Online Family). A company spokesman referred to OnlineFamily.Norton as "the ultimate solution" to parental-control and family-values questions.
"The long-demonstrated ability of Symantec security products to slow down the Internet experience will drive OnlineFamily.Norton," said the spokesman. "By adding layers of slowness to the Internet experience, soon it will be so slow that no one will be able to watch anything anyway."
© The fine fucking print: The editorial content on this page is fictional. It is presented for satirical and/or entertainment purposes only. We cannot be held responsible for the actions of anyone who takes this sort of shit seriously. We also do not wish to be held responsible for any copyrighted material that sneaked onto this page when we weren't looking. If you can prove that anything on this page belongs rightfully to you, we will happily take it down and return the unused portion. No questions asked.